My name is Drenda Lawton and I have been married to my loving husband Eddie Lawton for the last 55 years. We have lived a long, full, beautiful life together –– but the high cost of my husband's life-saving medications threatens our livelihood every day.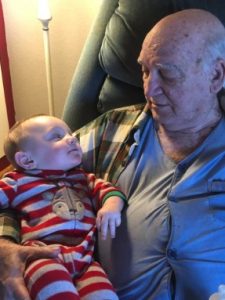 Ten years ago, my husband was diagnosed with type 1 diabetes, an incurable condition that requires lifelong treatment. He has also been diagnosed with COPD, emphysema, atrial fibrillation, high blood pressure, a heart condition, and both prostate and thyroid conditions.  Treating his conditions is quite costly. He is currently prescribed 13 different medications, including GlaxoSmithKline's Flovent. This is the most expensive drug he takes. Each month his prescription bill is about $120 per month, which is a lot to handle on a fixed income. In order to make ends meet, he rations his Flovent, which is of course not helpful to his condition. A few years back following a COPD flare-up, his doctor prescribed him a new medication with a $1000 price tag. I left the pharmacy in tears. No one should have to go through this.
We have to make many sacrifices in order to afford the drugs he needs just to live. If prices were not so high, we would be able to live a bit more comfortably. In the winter of 2016, Eddie had to be hospitalized for a due to another COPD flare-up. When I brought him home, our 40-year-old furnace went out. We couldn't afford the price of a new one and were forced to go without heat for several months until we could find a place that would finance a new one for us. Having to sleep in a cold room was very hard on him and his body. It was difficult for me as well, and I was constantly afraid he would have another flare up.
Those several months felt like a lifetime. We still always have to be conscious of our utility bills –– especially during the summer time. My husband can also suffer a bad reaction from his COPD if his body gets too hot. We would also be able to enjoy other things such as a reliable car if drugs were more affordable. Our current car is 28 years old and, of course, requires costly repairs from time to time. It would just be nice just to be comfortable.
Unfortunately, for patients with like my husband, the price of prescription medication has skyrocketed in the last decade. The costs can be overwhelming for a family on a fixed income. Obtaining the necessary medication becomes a matter of life or death. Drug affordability is a crisis that must be addressed to prevent unnecessary suffering and give hope to the millions of Americans who rely on these drugs for their survival.