WASHINGTON, DC – Americans are being extorted by Big Pharma, whose drugs they must take to improve their lives – and in some cases simply survive. That's why, over the last two weeks, Patients For Affordable Drugs collected nearly 400 letters from patients urging President Donald Trump to keep his promise and allow Medicare to negotiate lower prices.
Gerald Fisher of Michigan wrote to the President: "My insulin copay is $450 for three months. Drug corporations and their lobbyists rigged the system to give themselves monopoly pricing power. As long as Medicare can't bargain for lower prices, patients will suffer."
Rich Greenland of Minnesota wrote: "I have chronic myeloid leukemia. My chemo drug is called Sprycel. It costs $350+ a pill a day for the rest of my life. The drug is keeping me alive but I cannot afford it. Without help, I won't have any of my savings left."
Deidre Miller of New Hampshire wrote: "I had to put $4,000 on my credit card to pay for my prescriptions while I was in the 'donut hole.' I am 70. I have no idea how I'm going to pay this off."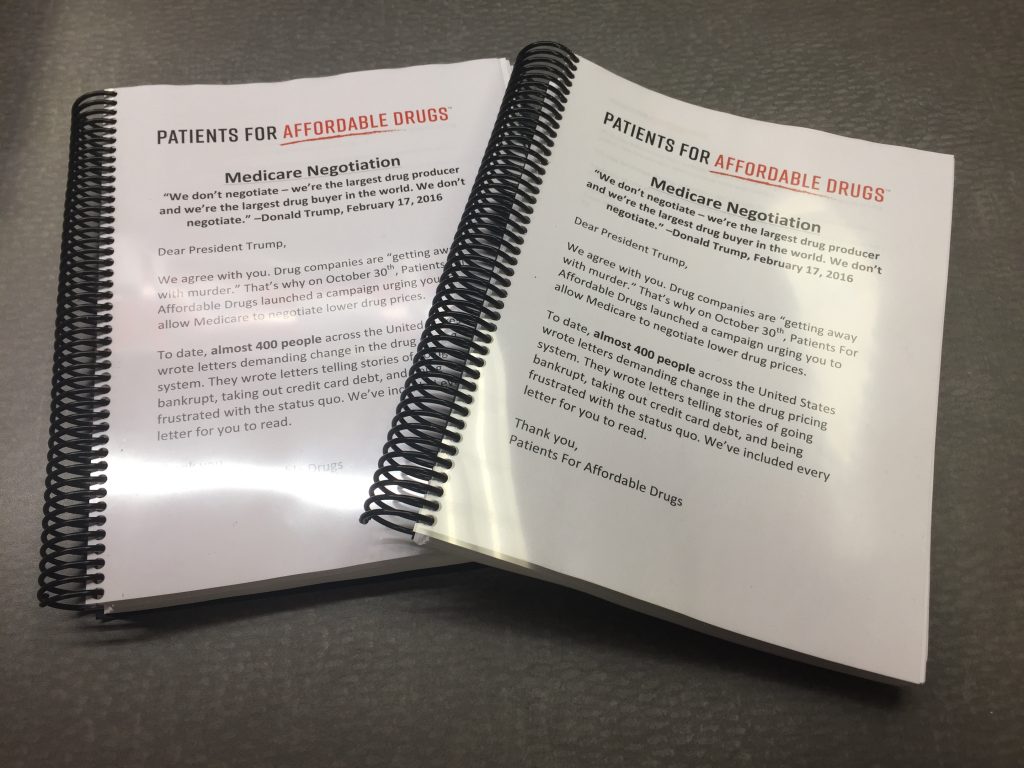 The President acknowledged that drug companies are "getting away with murder" and said that "If we negotiated the price of drugs…we'd save $300 billion a year." Patients agree – America's failure to negotiate with drug corporations leads to higher prices and needless suffering.
According to the Kaiser Family Foundation, 92 percent of Americans, including a large majority of Republicans, support allowing Medicare to negotiate lower drug prices on behalf of beneficiaries.
Current law prohibits Medicare from directly negotiating drug prices. As a result, drug corporations charge whatever they want for lifesaving medicines.
The Medicare Drug Price Negotiation Act of 2017 would leverage the purchasing power of millions of Medicare beneficiaries while protecting the needs of patients to select drugs that work best for them.
Patients For Affordable Drugs is the nation's only bipartisan patient organization focused exclusively on policies to lower prescription drug prices. It does not accept funding from any organizations that profit from the development or distribution of prescription drugs.